Don't Get Tired on Alanya Beaches - You Must Be Fresh for the Nightlife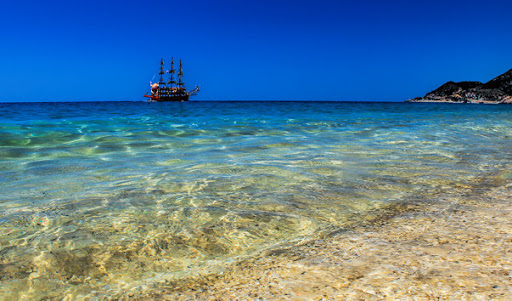 We live completely otherwise on holiday. No wonder. There is no stress, deadlines, moody boss, difficult neighbour or demanding teacher, transfers of children to their so important after-school activities. Just dolce fa niente. During the day to be lying on the beach seems like the best idea. But who would like to go to bed in the evening? Nights are warm and as psychologists say the very effective way of getting relaxed is to have some drinks with likeable people at the party. In Alanya, they keep in mind this "human basic necessity of life".. The Alanya nightlife is concentrated on the boulevard near the harbour aptly named Bar Street and it is very busy, not due to traffic, of course.
Under the Roof Or In the Open Air?
You can find tens of bars and clubs in the centre of the city. It's where most tourists and locals go if they're looking for a place to dance and drink the night away. Most nightlife venues on Bar Street close at 3am, but if that's too early, you'll find a couple of places on the outskirts of Alanya that open until 5am. Some of them are multi - stories so visitors have a great opportunity to have drinks inside and to go dancing upstairs on the roof. And vice versa. Since many bars are cafes, you can enjoy Turkish and Western cuisine for dinner. To satisfy every taste the dance music is regularly varied so one can hear rhythms of different origin and type. Naturally. the Turkish music is never skipped.
There is a Third Possibility. On the Boat!
Remember, you are at the seaside. There are boats ready to take you for a trip or a cruise day and night. Evening cruises include "mild" parties and while the sun sinks into the Mediterranean first, you can enjoy a barbecue dinner and unlimited soft drinks onboard or jump off the deck for a swim in the bay at twilight. If you get aboard The Disco Board, you will have an extraordinary experience of the cruise in the darkness admiring the illuminated Alanya sights and dancing on the sea.
While Children Are Sleeping
Are you a parent of young children? Would you like to go out and don´t wanna let them in a hotel to have a glass of wine, read a book or watch TV? You needn't. There are some bars which allow children to enter so you can even bring your little ones here. It's quite a strange party and you will probably have to carry them sleeping in your arms or to give them a piggyback coming back to the hotel but before they fall asleep they and you will have a fan. Do not worry and make love and children, they are not a problem for Alanya nightlife.
Dancing Till the Dawn
A very romantic thing in Alanya is the dawn on the beach. If you are a person who enjoys sleeping the only time, you can see it is the early morning after night spent out. Ideal and recommended especially for lovers, couples on honeymoon or longer happily married couples. And teenagers can find at this moment their summer love which makes the holiday more attractive.
About the Importance of (not) Being Sober
Bars in Alanya are known for their friendly bar staff, strong drinks and polite service.. Every night you'll see bartenders performing neat tricks with glasses and bottles, or staff dancing on the bar top to keep customers entertained. You can have so many drinks here and all of them taste superb. Very popular are Cuban stiff drinks, though we are not in Caribbean. The more you will dance the more drinks you can have without a morning headache. A slight hangover belongs to a well-spent night on holiday, you needn't get up in the morning.
What time do you go to bed on holiday? When do you get up? Do you think holiday is a good time to get drunk?